Partners in Health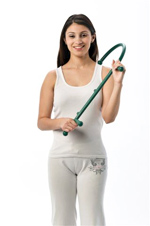 Theracane self massage tool
The Theracane is a self-massage tool uniquely designed for those difficult to reach Trigger Points that we all get from time to time. Great maintenance tool for in-between massages. Learn some creative and easy ways to use your Theracane on this website including helpful images and even a video. Just remember when releasing TP's use medium pressure and hold for a max of 15-20 seconds.


Bivrell Chiropractic
Quality Chiropractic Care. Dr. Paul Bivrell is one of the "good ones". Truly interested in meeting your recovery goals. Very smooth with neck adjustments and he's great at putting ribs back in place.



http://veghealth.com
One of the most complete guides to natural health and alternative medicine that I have found.


One of the better pain relieving gels. It actually does help.




Great website! Check em' out
© Copyright 2021 Focused Touch. All rights reserved.